How to Install WHMCS ?
This document explains how to integrate your DomainNameAPI account to WHMCS software.
Requirements
– PHP versiyon 5
– SOAPClient must be active in the server! (http://php.net/manual/tr/class.soapclient.php)
Loading
Load WHMCS module files that you purchased from us to "WHMCS_ANA_KLASOR / registrars / domainnameapi/" position.
"domainnameapi.php" and "logo.gif" files must be inside "domainnameapi" folder and "domainnameapi" folder must be inside "registrars" folder!

If you misload files, the modules cannot be found by module WHMCS.
Module Configuration
After loading the files, click "Setup // Products/Services // Domain Registrars" link on WHMCS management panel.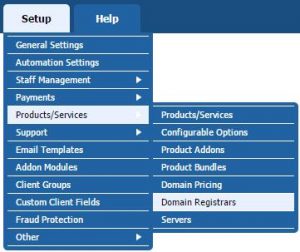 If everything is okay with loading the files, you must see "Domain Name API" in "Domain Registrars" list.

Activate the module by clicking "Activate" button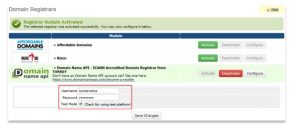 Following the activation of the module, to access module settings "Configure" button should be clicked.
If you use Test media, "Test Mode" should be active and "Username" space be "ownername" and "Password" space be "ownerpass".
If you are going to use real media, "Test Mode" should be deactivated and "Username" space should be updated as Domain Name API username and "Password" space should be updated as Domain Name API password.
After you make the change, click "Save Changes" button and save the changes.
Domain name pricing settings
After module settings are configured, click "Setup // Products/Services // Domain Pricing" link.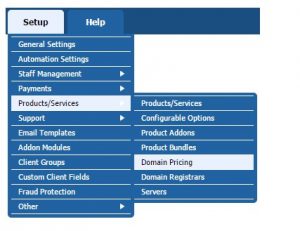 Please add domain extensions that you are planning to sell. Pricing settings must be entered by clicking "Open Pricing" for each extension. "DNS Management" and "Email Forwarding" must be deactivated but "ID Protection" and "EPP Code" must be active. "Auto Registration" option must be configured as "Domainnameapi".

General Domain Name Settings
After domain name settings are configured, plese click "Setup // General Settings" button.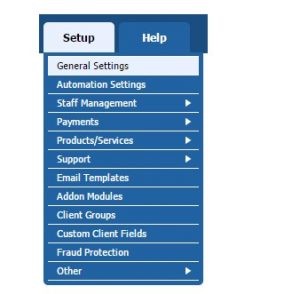 It is not obligatory to configure general settings as is shown in the following image. You can configure according to your needs.
If "Allow clients to register domains with you" is not active, your users cannot register new domain. If "Allow clients to transfer a domain to you" " is not active, your users cannot transfer domain.
If "Enable Renewal Orders"  " is not active, your users cannot make renewal before expiry of domain term.
If "Auto Renew on Payment" " is not active, domain term is not renewed automatically though user makes payment.  Renewal is possible only after your approval.
We recommend "Domain Sync Enabled" to be active. Transactions such as domain name renewal etc. is made in your Domain Name API account, it enables information synchronized with WHMCS. To operate you should complete cron settings for "domainsync.php". For further information, you can refer to website of WHMCS.
"Allow IDN Domains" allows Turkish character domain register.
Please enter your nameserver information in "Default Nameserver" information.
"Use Clients Details" must be active to allow your customers to enter relevance information of domain.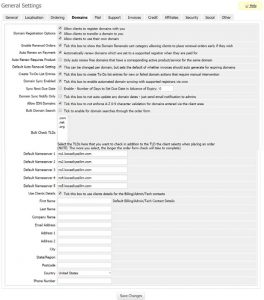 Debugging
To activate debugging management, click "Utilities // Logs // Module Log" link.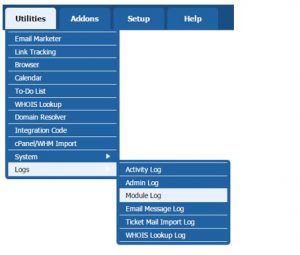 Activate logging by clicking "Enable  Debug  Logging"  if available as it is shown in the following image. If there is "Disable Debug Logging" button, logging is already active.

All successful/failed requests and responses relating to domain are logged in this module.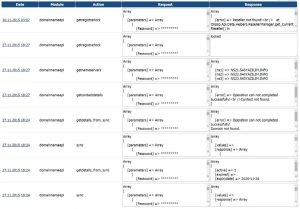 If you think that there is a problem, you can review details by clicking date of the related log.
.org domain extension is $7.99 instead of $11.99 until 30 September 2018. No coupons… No limitations… For all www.domainnameapi.com domain name resellers. Change your domain extension into .org and benefit
Domain Name Api – WHMCS Entegrasyon Rehberi Bu dökümantasyon DomainNameAPI hesabınızı, WHMCS yazılımına nasıl entegre edeceğinizi anlatmaktadır. Gereksinimler –     PHP versiyon 5 –     SOAPClient sunucuda etkin olmalıdır! (http://php.net/manual/tr/class.soapclient.php) Yükleme Tarafımızdan